Whether you see blogging as a hobby or a job, maintaining a successful one requires commitment. Most experts recommend posting new content two to three times a week, but churning out that much original content and making it captivating can be a challenge. Here are ten of the best free resources to keep those posts flowing.
Flickr
Blogging is increasingly becoming a visual medium, and every post should have something for the eyes besides just text. Grabbing the first picture you like off a Google Image search could land you in hot water due to copyright violations, but there's always Flickr. The site is a must-have resource of free photos from individuals, as long as you search within the Creative Commons license and observe attribution guidelines. Many museums, visitors bureaus and organizations are uploading their photos to Flickr as well.


Evernote keeps track of your inspiration, so you can be trusted around ink pens and white walls.
Evernote
The need for updated blog posts is constant, but Evernote allows you to keep up with inspiration. This note-taking application allows you to save and catalogue nearly anything and has a powerful search feature that even looks for the handwriting in images. It's available for both mobile and desktop computers, so you can save text, photos, website links, and whatever else sparks your imagination.
Quickmeme
Memes are a direct and speedy way to get your point across to readers, and Quickmeme is one of the easiest meme creators out there. You can upload your own picture or just create a caption for one of the current photos making the rounds. Using Quickmeme also gives your visual post a better chance to go viral.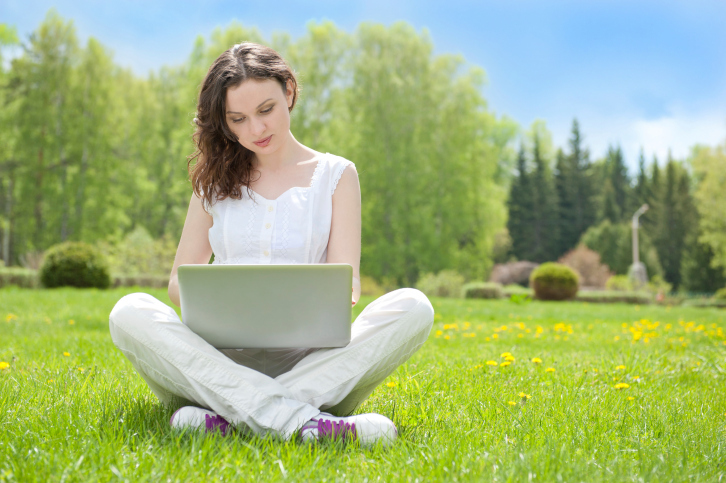 Great content makes a top blog, but the right tools definitely help.
WordPress
WordPress is the most flexible blogging and content management system on the Internet, whether you use their free hosted service for blogs at WordPress.com or download the CMS at WordPress.org and customize it to your heart's content. There's also quite a few free themes you can use, plus a host of widgets and plugins, from social media buttons to custom photo galleries. If you do start out with the hosted service and eventually want to expand, WordPress makes it easy to export your content to your new site.
Akismet
There are a lot of bells and whistles you can use on your blog, but the one essential is Akismet, a free spam filter that keeps your blog comment section clear of shady shopping links, weird dating sites and more. Get it and activate it on a new site as quickly as possible, before the spammers load you down. It's also a good idea to review Akismet's data once a week and see if any legitimate comments are accidentally caught in the filter. You want to acknowledge and respond on your blog to every genuine reader.
YouTube
Everyone is busy, and sometimes you forget to write that upcoming blog post until it's too late. Hit up YouTube for some fast content on your topic, whether it's an in-depth look at marketing or a brief inspirational video to give your readers a happy mental break in their day. The amount of content on YouTube is varied and staggering, and much of it is original material. You can link to the site, but it's more effective to embed the code, so your readers just have to click on the video to watch. Both options are available in the Share menu on the video's home page.
Plagium
Using guest posts written by others can extend your blog's reach and strengthen your networking skills, but how do you know that your guests have submitted original work? Plagium allows you to quickly check a guest post by pasting the text in the site's online box and checking it for any plagiarism. The site gives you the options to search the general Internet, just news sites, or social media networks. Hopefully you have sterling authors who wouldn't grab someone else's work, but it's best to know before you schedule that post, rather than receive a nasty cease-and-desist letter or demand for payment from the original author.
BuzzFeed
This site has ridden the meme of wacky lists to the top, and now also covers legitimate news and lifestyle posts. Once you create an account, you can create a short list or article linked to your own content, or post your content on the Buzzfeed site. Users can upvote and share your post via easy-to-use social media features. If your post goes viral, you'll be notified of the details via e-mail, such as how many Facebook shares, tweets or other tools have been used. Branding your post with your URL means they can follow up at your own site for more content.
Statcounter
If there's one thing bloggers are addicted to, it's statistics. Statcounter not only tracks visitors to your site, you can also see their IP address, city, state and country, how long they spent on your site, which pages they visited, if they've been to the site before, and more. All this is with a free account, which is plenty for most bloggers, but they do offer a premium paid account with other bells and whistles.
Once you create an account, you'll need to post a section of code on your own site so the counter can do its job. The code works behind the scenes, and you don't have to be an HTML whiz to put it there: Statcounter has specific instructions for all types of sites, including the free hosted blog sites like Blogger and WordPress.
StumbleUpon
If there's a secret weapon for blogging, StumbleUpon may be it. The service is a personal aggregator tailored to each person's tastes, and you can recommend your own URLs to friends or to the general service. The browser add-on for the site allows people to recommend your site to others just by clicking on a taskbar thumbs-up icon, making it faster than Twitter or Facebook. The main site gathers recommended content and displays it on a user's StumbleUpon page, where they can share it, put it in a list or comment on it. Since StumbleUpon remembers what kind of content people like, they're more likely to read suggested posts.
All these tools do take some time to learn, but each one has the potential to maximize your investment without costing anything other than a few minutes in your day.
Beth Bartlett writes about pop culture and the Internet. She knows that good blogging habits can strengthen your online reputation.